KeyCDN is a service of Proinity Ltd, a Swiss company, with its headquarters located in Winterthur. KeyCDN offers high performance Content Delivery Network packages at a very competitive price. In this KeyCDN review, we will scrutinize every aspect of KeyCDN's offering in order to validate the claims of the company and examine the performance of the content delivery network.
In order to understand the importance and excellence of this network, certain questions need to be answered first.
What is a Content Delivery Network or CDN?
CDN is a system of servers spread over the world in multiple data centers across the internet. These servers connect you to the nearest point of presence or POP and helps improve the speed of your connection. It serves almost all sections of the internet. It includes all web objects, downloadable objects, applications, live streaming media, social networks and so on.
Why do you need CDN?

CDN is beneficial to you in a number of ways
It accelerates your content.
It will allow you to scale seamlessly as it reduces operational costs.
If you have a close POP, it reduces loading time, lower latency and minimized package loss.
It will reduce the load on your server, thereby giving your site visitors a seamless browsing experience.
What You Get With KeyCDN
KeyCDN are not claiming they are the best Content delivery network in the market, their unique value proposition is competitive pricing. KeyCDN offers the lowest price you can find on the market, I would avoid tagging it a cheap CDN as that could be mistaken for poor performance but it certainly wins in the competitive pricing category.
Shared SSL
KeyCDN offers every customer shared SSL for free.
Custom SSL Certificate
If you already have your own SSL certificate, it is integrated for free.
Let's Encrypt

As of December 14th, 2015 KeyCDN now has Let's Encrypt integration. Basically, this means you can now have a custom SSL certificate for free! I have a Let's Encrypt certificate running on this blog.
Block Bad Bots
As of February 9th, 2016, they also now have a feature to block bad bots. This allows you to save money on your CDN bandwidth.
Account Security
KeyCDN has two-factor authentication, account access rules (restrict access to account by IP address) and login/change notifications to better secure your CDN account.
Pay As You Go
KeyCDN only charges you for what you use, no minimum commitment or standard fees. If you do not use your account, you only get charged for storage.
Traffic is charged at $0.04/GB
Storage is charged at $0.90/GB per month
Pull and Live Zones are free
No Charges for HTTP Requests
KeyCDN does not charge extra for HTTP requests or any traffic-related usage.
Transparent Pricing Model
KeyCDN's pricing model is transparent. Payment can be made with Visa, MasterCard, American Express and PayPal. No payment fees.
Free Credits
KeyCDN offers free $1 credit to get started. This means you can sign up and you get 25GB worth of traffic, this traffic is valid for a year.
HTTP/2 Support
KeyCDN was one of the first CDNs in the industry to implement HTTP/2.
Setting Up KeyCDN On WordPress
You can get started with KeyCDN by simply signing up, remember, you do not need a credit card to get started, once you sign up you get a free $1 credit and that credit is valid for a year if you do not exhaust it.
1. Sign Up at KeyCDN.com
2. Activate your Account
3. Create a Pull Zone
How To Create A Pull Zone on KeyCDN
Sign in to your KeyCDN dashboard
Click on the Zones tab from the left navigation bar.
Click on New Zone (blue button)
Input a Zone Name of your choice.
Set zone status to active and the Zone Type to "Pull". (Enable advanced features for other options e.g Shared SSL, gZip)
Enter the Origin URL (e.g. http://www.wpseer.com)
Save the zone
Note: The deployment of the new zone takes approximately 5 minutes.
4. Install either WP Super cache or W3 Total Cache
5. Here are the tutorials for the two plugins; W3 Total Cache or WP Super Cache
6. Ensure You wait for about 10 minutes after creating the pull zone to enable it fully propagate.
7. Enjoy your free 25GB worth of credit.
KeyCDN Review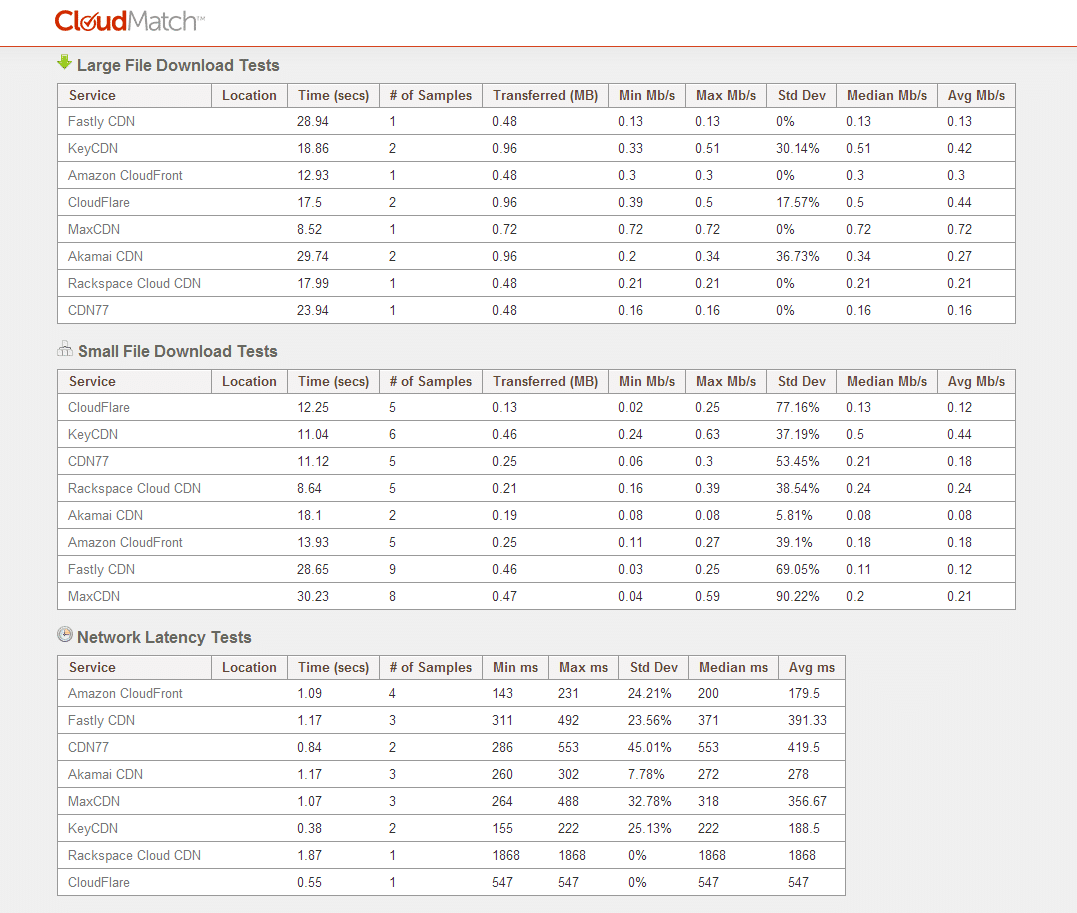 Large file download tests the best services for larger file downloads (e.g. video streaming)
Small file download tests the fastest services for a web app or website (web pages typically consist of many small files)
Network latency tests the overall responsiveness of a service and is generally most affected by geographical proximity
Apart from the performance test carried out through Cloudharmony we also deployed KeyCDN on this website for the purpose of this KeyCDN review and the results were pretty impressive. Compared to the Jetpack free photon CDN, we experienced faster page load and a significant reduction on server load when using KeyCDN.