Optimus WordPress plugin handles "looseless compression" of images. In normal people language, this means you can reduce the size of an image without sacrificing any visible quality.
Optimus is a new WordPress plugin by the KeyCDN team. If you are not familiar with KeyCDN, allow me introduce the service to you. KeyCDN is a great alternative to MaxCDN, it is fast, easy to setup and it has a practical pricing model that makes it affordable. I digress!
We got a copy of Optimus from the author of the plugin. Here is a honest review of the Optimus WordPress plugin.
Is there not a plugin that does that already?
Yes, there are several plugins that you can use to optimize images. The popular options are WP Smush and EWWW Image Optimizer. There are even more desktop tools you can use to optimize images; JpegMini, Photoshop, ImageOptimizer etc.
What makes this Optimus HQ different?
The Optimus WordPress plugin is easy to install and setup. It has an interface that makes optimizing images from the WordPress Dashboard effortless.
The plugin also packs some awesome features. Some of these features are useless to regular bloggers but for more advanced users, they save lives.
Benefits of Optimus HQ WordPress Plugin:
It can compress both PNG AND JPG formats.
It compresses WordPress generated thumbnails. This feature sets Optimus aside from desktop optimization tools like Photoshop or JpegMin.
It can compress heavy images, up to 5mb.
It can compress unlimited amount of images
It can optimize A WebP Images. WebP is a more efficient image format developed by Google and OptimusHQ can optimize images in this format.
Optimization of Images could be over an HTTPS connection and it has a developer API.
It can optimize both Baseline and Progressive images.
Baseline JPEGs are the "normal" JPEGs, the default JPEG that image programs write.
Browsers load Baseline JPEGs from top-to-bottom while Progressive JPEGs renders progressively as the name suggests. First you see a low quality version of the whole image and the image improves as the image loads.

Installing Optimus
The Optimus WordPress plugin can be downloaded from the author's website or from the WordPress Plugin repository.
The plugin is installed like every other WordPress plugin, the plugin can be activated with a paid license. This provides a full access to all the plugins' options.
Once activated, existing images can be optimized under "Tools" – "Optimize all images" in the WordPress dashboard.
Optimus Settings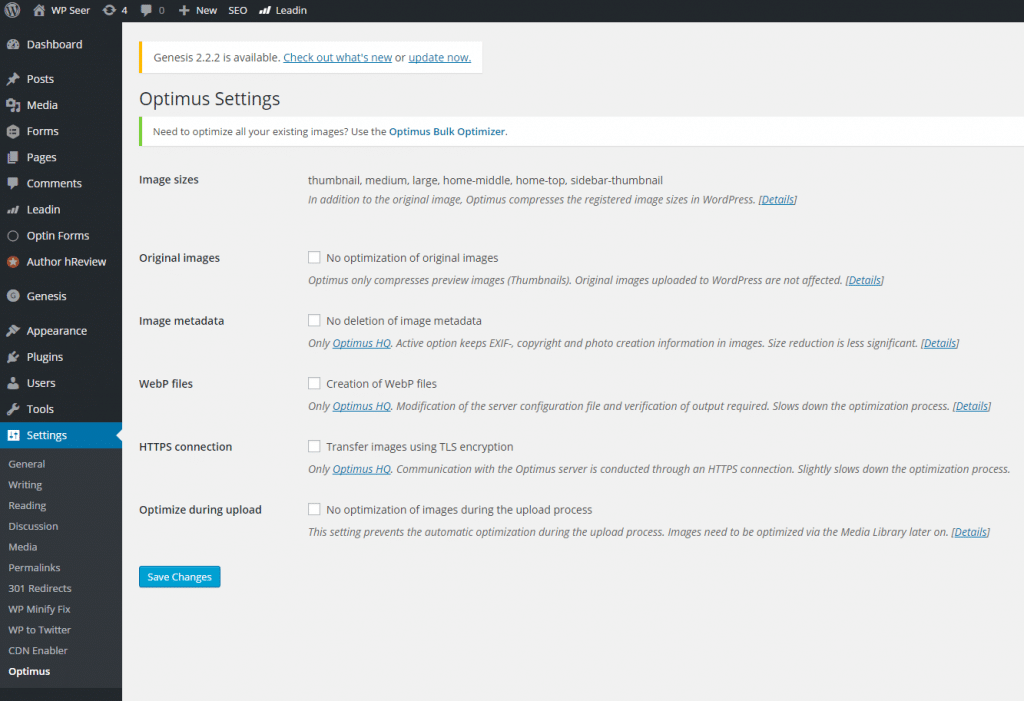 Once Optimus is activated, every new image uploaded is optimized by the plugin. The settings are for extending your options and exerting more control over the plugin.
Original Images
This option prevents optimus from optimizing the original image. The Optimus plugin will only optimize thumbnails and the original image will be left untouched.
Image metadata
This option prevents the plugin from deleting the image metadata; the image information is left untouched.
WebP files
This option activates the creation of WebP files. A WebP version is generated and optimized for each image uploaded in WordPress.
HTTPS connection
This option instructs the Optimus plugin to communication with the Optimus server through an HTTPS connection.
Optimize during upload
This allows you to avoid any delays and not optimize your images during the upload process. You can then bulk optimize them afterwards.